Yu-Gi-Oh!: Fists of Gadgets
Gadgets, Brotherhood of Firefist, Skull Archfiend,   archetipi che hanno segnato la storia e i metagame di Yu-Gi-Oh!
Scopri con noi quali nuovi supporti hanno ricevuto con Fists of Gadgets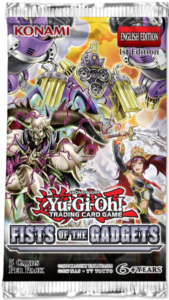 "Vecchie glorie" come Fire Fist, Gadgets e Skull Archfiend hanno segnato per svariati anni i metagame del gioco di Yu-Gi-Oh!
Con un set di 60 carte (20 secret e 40 super) con lo scopo di far "risorgere" e celebrare quei mazzi che attualmente ricoprono il ruolo di "outsider" (non si ritaglierebbero uno spazio nemmeno nei tier-2), ma che un tempo erano fissi nelle top dei tornei più prestigiosi
Eccoti un elenco (non completo) di quello che troverai all'interno di questa espansione che uscirà il 22 agosto 2019
Secret Rare:
Archfiend's Awakening
Boot-Up Command – Gear Strength
Brotherhood of the Fire Fist – Swan
Fire Formation – Domei
Archfiend's Ascent
Fire Formation – Tenki
Ultimate Fire Formation – Sinto
Brotherhood of the Fire Fist – Elephant
Archfiend's Manifestation
Fire Formation – Ingen
Boot-Up Admiral – Destroyer Dynamo
Fire Fortress atop Liang Peak
Archfiend's Call
Brotherhood of the Fire Fist – Ram
Ignis Heat, the True Dracowarrior
Brotherhood of the Fire Fist – Panda
Brotherhood of the Fire Fist – Eland
Brotherhood of the Fire Fist – Peakcock
Brotherhood of the Fire Fist – Eagle
Code Radiator
Super Rare:
Boot-Up Command – Gear Load
Rasterliger
Brotherhood of the Fire Fist – Tiger King
Starving Venom Fusion Dragon
Red Gadget
Yellow Gadget
Talkback lancer
Brotherhood of the Fire Fist – FF Bear
Brotherhood of the Fire Fist – FF Cardinal
Brotherhood of the Fire Fist – Gorilla
Shootingcode Talker
Fire Formation – Yoko
Elphase
Amorphage Goliath
Chronograph Sorc
Code Talker
Dinomight Knight, the True Dracofighter
Cynet Conflict
Cynet Optimize
Gold Gadget
Brotherhood of the Fire Fist – Spirit
Swap Cleric
Majesty Maiden, the True Dracocaster
Green Gadget
Amorphage Leechery
Amorphage Sloth
Fire Fornation – Tensu
Boot-Up Corporal Command Dynamo
Subterror Fiendess
Brotherhood of the Fire Fist – Rooster
Spool Code
Hidden City
Subterror Final Battle
Prohibit Snake
Defcon Bird
Silver Gadget
Powerhold the Moving Battery
Mythical Beast Master Cerberus
Latency
Scrap Recycler
Queste e tante altre CARTE SINGOLE dei principali giochi di carte collezionabili come Yu-Gi-Oh!, Cardfight!! Vanguard, Magic the Gathering, Pokemon, Dragon Ball Super e Force of Will ti aspettano nel nostro negozio! Inoltre ritiriamo le tue CONSOLE, VIDEOGIOCHI e ACCESSORI usati! Contattaci per avere ulteriori informazioni!
Seguici, Iscriviti e Interagisci con noi tramite social E FORUM

1) Iscriviti al nostro Canale Youtube per i nostri unboxing
2) Iscriviti al nostro Profilo Facebook, lasciando un TUO VOTO un TUO FEEDBACK sui nostri prodotti, servizi e tornei sanzionati
3) Iscriviti al nostro Sito Ufficiale per conoscere l'assortimento dei nostri prodotti
4) Iscriviti al nostro Profilo Instagram per lo svoglimento dei tornei
Ricorda il TUO FEEDBACK
RACCONTA la TUA esperienza di acquisto come cliente o di giocatore che ha partecipato ai nostri tornei!
Basta un semplice feedback sulla nostra pagina Facebook.
Ogni singola indicazione una fonte di indicazioni preziose che ci aiutano a capire che cosa piace a chi frequenta il nostro negozio.
Non esitare! Condividi ORA la TUA PASSIONE con altri giocatori come abbiamo fatto noi creando questo punto di ritrovo per coloro che amano i giochi di carte collezionabili e non solo!
Christian (Iori_Yagami)