Yu-Gi-Oh! – "Battle of Legends: Hero's Revenge"
Aumenta la forza del tuo Deck con questa nuova espansione di Yu-Gi-Oh!
Presta molta attenzione a quando andrai in vacanza, perchè il 12 luglio 2019 uscirà la prossima espansione irregolare "Battle of Legends: Hero's Revenge", che vedrà l'ormai consolidato mix di ristampe con una rarità diversa dalla versione originale, a carte inedite dedicate agli archetipi che necessitano di quella "spinta apposita" per poter trovare più spazio nel metagame.
Ben 93 carte totali, divise in 4 carte Ultra Rare e 1 carta Secret Rara per pacchetto ti attendendono. Inizia a scoprire alcune delle carte che troverai, soprattutto se giochi archetipi come: "Numero", "Vision Hero", e "Battlewasp" che farà il suo debutto.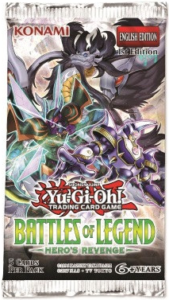 Ecco a te un elenco (PARZIALE) di quelle che saranno le carte di questo set
Secret Rares
Five Headed Dragon
Ipiria
Interrupted Kaiju Slumber
Dark Sacrifice
Dinowrestler Prankatops
Artifact Lancea
Number 97: Dragravion
T. G Gear Zombie
Number 93: Utopia Kaiser
Sky Striker Mecha – Widow Anchor
Sky Striker Mobilize – Engage!
Vision Fusion
Traptrix Sera
Vision Hero Increase
Salamangreat Almiraj
Vision Hero Fairis
Fortune Fairy Hikari
Harpie Conductor
Black Chaos Soldier, the Chaos Warrior
PSY-Framelord Lambda
Hi-Speedroid GOM Gun
Hi-Speedroid Kitedrake
Borrelsword Dragon
Nekroz Cycle
Sky Striker Raye
Vision Hero Vyon
Ultra Rares
Herald of the Arc Light
Number 76: Harmonized Gradielle
Vision HERO Multiply Guy
White Dragon Wyverbuster
Vision HERO Trinity
Fortune Fairy Ann
Lunalight Crimson Fox
Battlewasp – Dart the Hunter
Battlewasp – Twinbow the Attacker
Lucky Loan
Foolish Burial
Magical Musketeer Max
Revival Swarm
Water of Life
Artifact Scythe
Vision HERO Gravito
Fortune Fairy Hu
Number 26: Spaceway Octobypass
Vision HERO Multiply Guy
Battlewasp – Dart the Hunter
Will of the Salamangreat
Battlewasp – Ballista the Armageddon
Shaddoll Beast
Battlewasp – Sting the Poison
Number 60: Dugares the Timeless
Vision Release
E ora una breve panoramica su alcune carte del set:
Salamangreat Almiraj (mostro Link 1, Fuoco, Cyberso, ATK 0)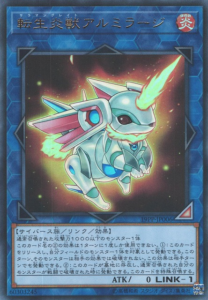 1 Normal Summoned/Set monster with 1000 or less ATK
You can Tribute this card (Quick Effect); Target 1 monster you control; it cannot be destroyed by your opponent's card effects until the end of this turn. When a Normal Summoned/Set monster is destroyed by battle while this card is in your GY: You can Special Summon this card from your GY. You can only use this effect of "Salamangreat Almiraj" once per turn.
Evocabile tributando un mostro di 1000 ATK o inferiore, tributando Almiraj, puoi salvare un tuo mostro dalla distruzione degli effetti delle carte del tuo avversario fino a fine turno. Se un tuo mostro dovesse essere distrutto in battaglia, puoi rievocare questa carta dal tuo Cimitero. Ottimo loop-combo per salvare un tuo mostro che in quel momento ritieni fondamentale.
Da usare con accuratezza, ma sicuramente sarà un valido alleato da inserire nel tuo Extra Deck
Magical Musketeer Max (mostro Link 1, Luce, Demone, ATK 1000)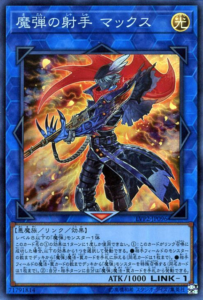 1 Level 8 or lower "Magical Musket" monster
During either player's turn, you can activate "Magical Musket" Spell/Trap Cards from your hand. If this card is Link Summoned: You can activate 1 of these effects.
● Add "Magical Musket" Spells/Traps with different names from your Deck to your hand, up to the number of monsters your opponent controls.
● Special Summon "Magical Musketeer" monsters with different names from your Deck, up to the number of Spells and Traps your opponent controls.
You can only use this effect of "Magical Musketeer Max" once per turn.
Usate 1 mostro Magical Musket di liv. 8 per evocarlo. Questo mostro ti da la possibilità di attivare le magie e trappole di questo specifico archetipo, direttamente dalla mano. Quando questa carta viene linkata ad un altro mostro Link, potete attivare uno dei seguenti effetti, una volta per turno:
– Aggiungere carte magia / trappola "Magical Musket" con nomi differenti dal tuo Deck alla tua mano, per un numero eguale a quello dei mostri controllati dal tuo avversario
– evocare specialmente 1 mostro "Magical Musket" con un nome differente dal tuo Deck, per un numero eguale a quello delle magie / trappole controllate dal tuo avversario.
Decisamente un ottimo supporto per coloro che giocano questo mazzo. Ora resta da vedere fino a che punto sarà impattante nel metagame futuro (banned list permettendo)
Queste e tante altre CARTE SINGOLE dei principali giochi di carte collezionabili come Yu-Gi-Oh!, Cardfight!! Vanguard, Magic the Gathering, Pokemon, Dragon Ball Super e Force of Will ti aspettano nel nostro negozio! Inoltre ritiriamo le tue CONSOLE, VIDEOGIOCHI e ACCESSORI usati! Contattaci per avere ulteriori informazioni!
Seguici, Iscriviti e Interagisci con noi tramite social E FORUM

1) Iscriviti al nostro Canale Youtube per i nostri unboxing
2) Iscriviti al nostro Profilo Facebook, lasciando un TUO VOTO un TUO FEEDBACK sui nostri prodotti, servizi e tornei sanzionati
3) Iscriviti al nostro Sito Ufficiale per conoscere l'assortimento dei nostri prodotti
4) Iscriviti al nostro Profilo Instagram per lo svoglimento dei tornei
Ricorda il TUO FEEDBACK
RACCONTA la TUA esperienza di acquisto come cliente o di giocatore che ha partecipato ai nostri tornei!
Basta un semplice feedback sulla nostra pagina Facebook.
Ogni singola indicazione una fonte di indicazioni preziose che ci aiutano a capire che cosa piace a chi frequenta il nostro negozio.
Non esitare! Condividi ORA la TUA PASSIONE con altri giocatori come abbiamo fatto noi creando questo punto di ritrovo per coloro che amano i giochi di carte collezionabili e non solo!
Christian (Iori_Yagami)